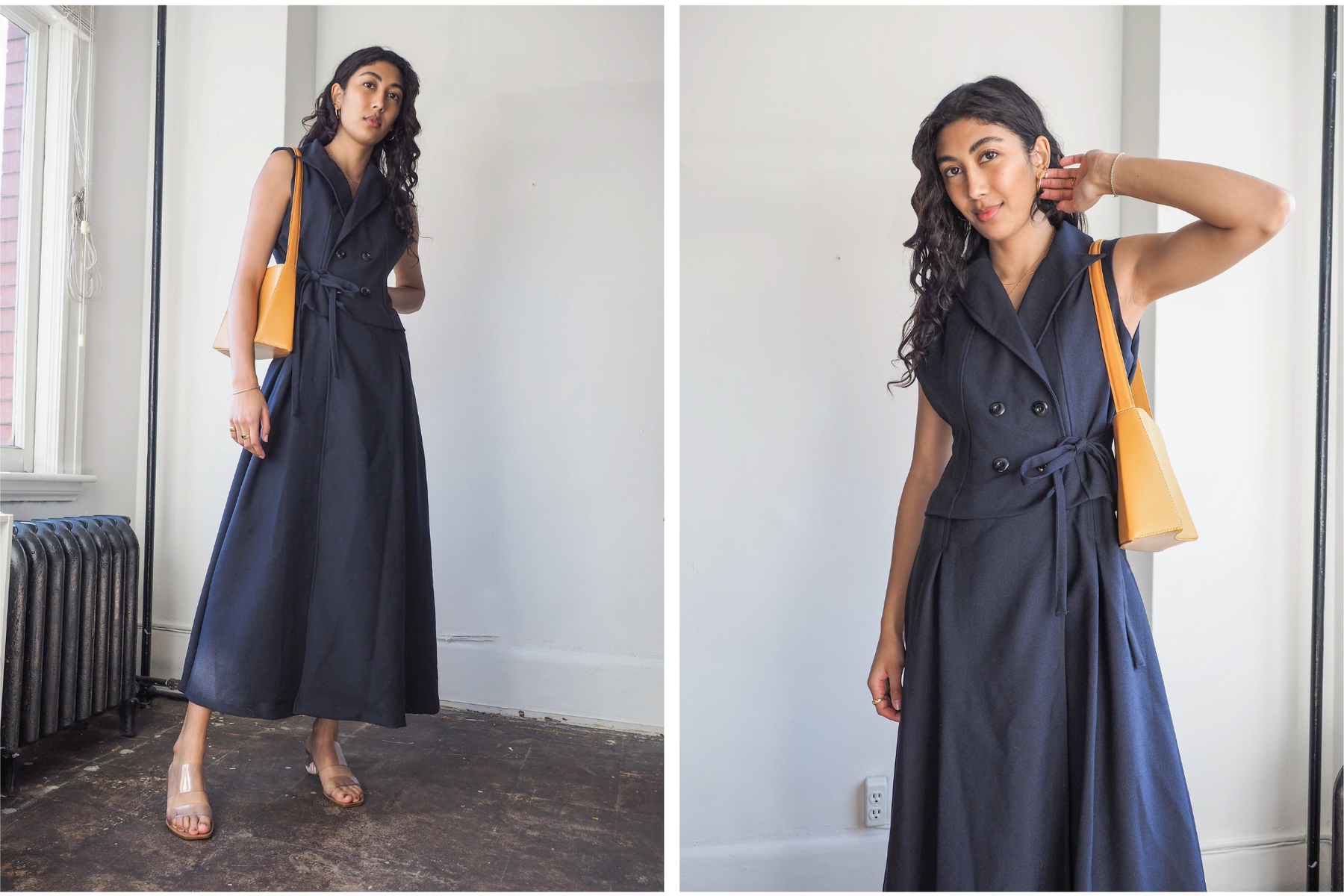 STYLE MUSE | Leah Grewal, Model, Marketer and Content Creator
Proenza Schouler Wrap Dress, Vintage Danier Jacket, Crossbody Bag
Once in a while you meet a "does it all" Creator. They're the visionaries who execute, are seen everywhere but you'd never know it was them. Today, it's my pleasure to introduce you to Leah "Does It All" Grewal, Senior Booker and Marketing Manager for Stranger Agency, a model, freelance Content Creator, and Stylist.
At first sight, you'd have to guess Leah's background. She's Indian,
Filipino, Chinese, Spanish, British, and Japanese, but it doesn't end there. One thing is for certain, Leah's background and upbringing has shaped who she is today and she's taking us along for the ride.
Leah and I first crossed paths around 2013, during her time with a local jewelry brand. She was warm, welcoming and always wearing something that I admired. The look told you who she was.
With a career mainly behind the scenes, but seen so much in front of the camera, I wanted to sit down with Leah to get a better understanding of her desire for secondhand fashion and what role she plays with conscious consumption.
Wrap Maxi Dress, Cult Gaia Jila Flower Heel, LOW CLASSIC Shoulder Bag
Q: As a Content Creator, what role do you play in promoting conscious consumption?
"I think it's incredibly important to amplify and support the
brands/designers that I'm passionate about. To share honest and transparent opinions and to say no to brands that my values do not align with. I love adding new pieces to my wardrobe, playing with new skincare/makeup, and getting excited about new releases. But, I love to highlight outfit repeating, secondhand/vintage pieces, and local designers to show my followers more sustainable or ethical options for the products they feel they 'have to' purchase from big box/less ethical channels"
Q: Why do you choose secondhand?
"Sustainability has always been at the forefront. I see fast fashion brands pumping out releases and clearance sales everyday, and it upsets me, but at the same time I understand the need for affordable and accessible clothing for everyone and
that's always possible while secondhand shopping. I love supporting small businesses, shopping from online or in person curated secondhand/vintage shops because it takes the time out of culling through racks of clothes while still being able to shop sustainably. I love the ability to find unique, one-of-a kind pieces."
Q: What is your most coveted secondhand piece?
"My grandmother's necklace which was passed down from her mother. If we're talking about pieces I've found, I love my Ganni printed mock neck tops. They're sustainably made (win-win), playful, versatile, and figure flattering. The prints never go
out of style so I can pair them with a simple pair of jeans, layered under a dress, or with a suit for a fun pop of colour."
Q: Where do you see the fashion industry heading?
"Towards a more size inclusive and sustainable future! Frankly
this has taken WAY too long but I'm so glad to see brands starting to offer wider size runs to include all bodies. It's wonderful to see people of all shapes and sizes being included in size grading, marketing content, editorials, fashion shows etc. As it should be!"
Q: What fashion lessons do you want to leave for future generations?
"To be a thoughtful consumer. Take the time to research where your purchases come from, how they are made, and who makes them. Not to get too influenced by trends but to search for pieces that feel 'you' and that make you feel fantastic."
Cable Knit Vest and Vintage Woolrich Zip Up
Stay tuned for more stories like Leah's with the Creator Series.