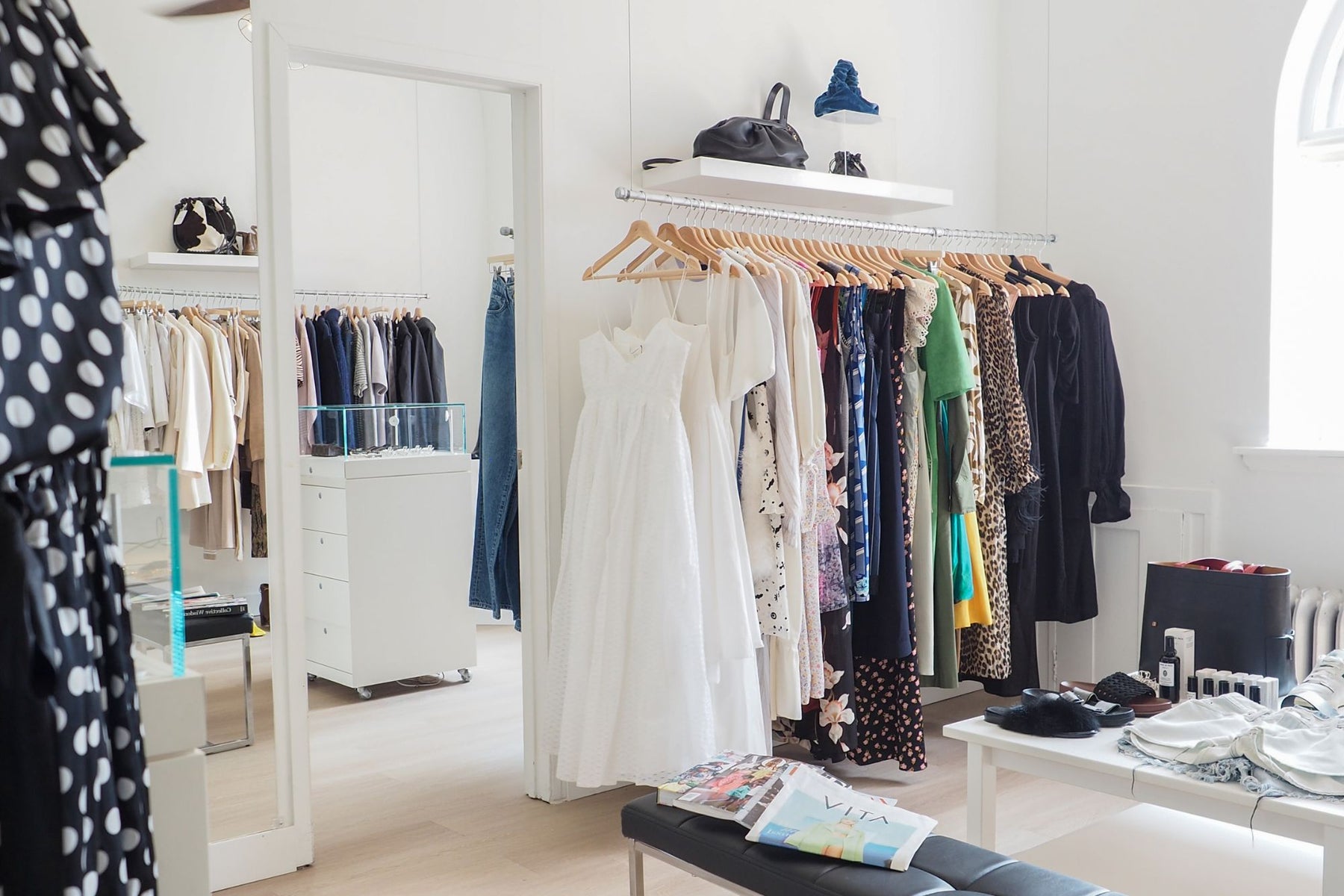 How I Opened A Vintage Shop
One of the most common questions is, "How did you open this shop?" The story behind Collective Will is equal parts right timing, community support and working smart, with a little sprinkle of luck. If you're curious about how I got here, read the story behind how I opened Collective Will below.
It had been years since my first product-based business. I had spent the last six years running a service-based company, all while a friend and I had just come off of a three-year run executing Canada's Largest Consignment Warehouse Sale: ARCHIVE and the pandemic shut us down as fast as we opened.

We were amid the pandemic when I needed to return to products. It wasn't the product but the process of creating and sending it to someone for immediate or long-term happiness. Something that could be passed on in a way that a service could not.

It was just after 9 PM on a weeknight in October when I plopped myself down on the carpet in Alex's office; coincidentally, my edible kicked in and said, "I have an idea!". I explained that my way of re-entering the slow fashion industry would be through a pre-loved shop online. It was going to be for fun, a hobby.

I spent the next three months building a brand online. I made the website myself, self-shot professional editorial images for each product, purchased all the necessary retail accessories for a home-based hobby business and gathered inventory from thrift stores. I wanted to add a luxury element but still needed access to public consignors, so I contacted friends selling their wardrobes. Two friends were selling designer bags and clothing and trusted me to sell their pieces. I lucked out!

I was to launch on February 1st, 2021. I'll always remember my first sale. That year was a record year for my marketing company, but I was slowly burning out. I had been considering leaving marketing for years but was able to bring myself to do it in November 2021. The first 11 months of the online shop were great. I sprinkled in an in-person pop-up every few months to keep it fresh and fun and ended my year with $17K in extra spending cash - or so I thought.

"It's just for fun!" brought in $17K, but I spent $19K doing it. How?!

Despite the loss in the first year, I focused on my win with what I had done with my agency, and it was time to head out on a high note. I finalized my contracts and shut it all down. I would take the next three months to relax and think of my next move - only to get the keys to my first Collective Will studio two weeks later.

It was one of those moments when the stars aligned. A close friend who dabbled in the "for fun" vintage denim business wanted to do something new. We rented a 225-square-foot space in a 100-year-old building and split it down the middle. We each had a little over 100 square feet to make our own. My friend's partner helped us set it up with racks and a fitting room, and a little Facebook hunting here and there, we were fully furnished. We were open to our first appointments the week before Christmas.

Being in this space ignited something in me. This was only going to work because I wanted it to. I had savings in the bank, and there was already a vintage shop on the 4th floor - this has to work. Weeks went by, and I needed help to get appointments. My only shot was to open the door to all walk-in traffic so I didn't rely on no-shows. It took a few weeks, but traffic increased, and sales came in. I saw the vision!

Come April, my friend decided she wanted to pursue different things, and I took the space over. I was scared. The whole space would be double my expense, but I must do it alone! "No risk, no reward" is what I kept telling myself. Around this time, I had the pleasure of becoming a Mentee with the former VP of Hugo Boss Canada. I highly recommend taking on a Mentor for anyone looking to grow as a person in business. You can learn a lot about yourself and your business in a short amount of time.

From December to now, I have been contacting friends in the media for coverage. Thankfully, they delivered, and the press helped reach a wider audience. With the help of my Mentor, I was off and running! It no longer felt like I was doing this alone.

Summer quickly came and left, collections in the shop were turning over, and I saw real consistency and sales growth. It was time to think bigger! In October, I signed a lease on a new space on the 14th floor of the same building, but a unit 3 times the size. At this time, there were three stores in the building, including my own, and traffic was almost as much as if I was a shop on the street. I pushed content on Instagram, TikTok, referrals, and articles; you name it. I actively worked on my business just as much as I worked in it.

I opened the doors to my new space in November of 2022. I hosted a launch party, pop-ups, weekend events and promotions to get the buzz out there. Moving into a new space just before the holiday was an excellent decision. My sales goals were four times the size they had been till now, and it was the industry's busiest shopping time of the year. This was all strategic. With the new unit came more space for inventory. If I could offer five times the product I did before, the customer retention rate would be higher. Word spreads quickly, so how could I not hit my new goals with more customers and buying options?

It has now been a year and a half of Collective Will in-store shopping. The shop has garnered a long list of quality consignors, cultivated an incredibly supportive community, and has now been named one of Canada's nine best under-the-radar secondhand shops by FASHION Magazine. While the in-store shopping experience has been well-oiled, I've begun to focus my time on the e-commerce side of sales. I can reach a global audience with weekly drops of new arrivals, consistent markdowns, and professional photography. E-commerce has challenges, but consistency, keeping it simple, and clear communication has proven to work the best.

Even though I'm already on the top floor, it's only up from here.