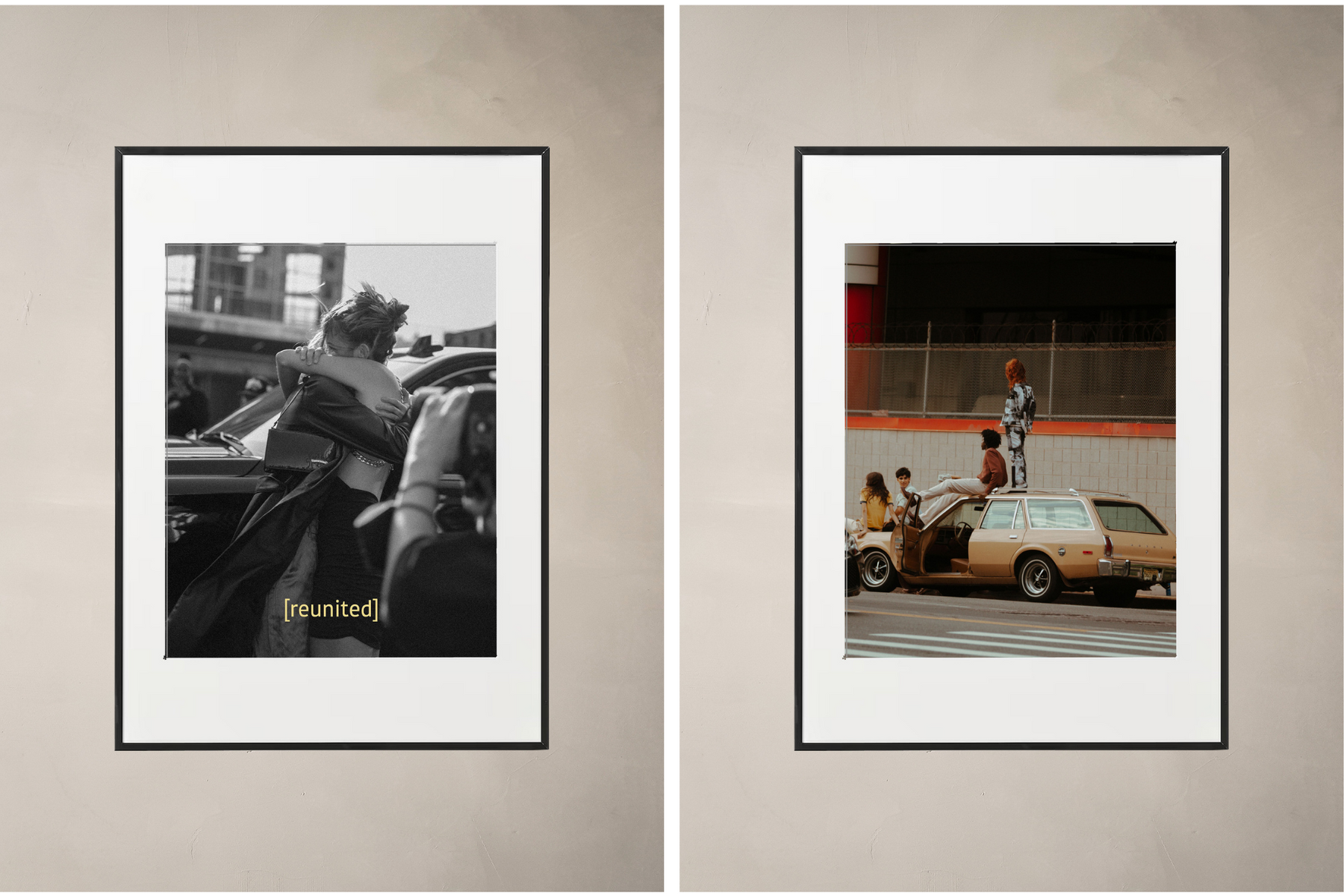 Street Style Photography by StreetScout
A new wave of style has launched at Collective Will. You can now shop exclusive original Street Style photography by StreetScout. 
Published Canadian Fashion Photographer Sabrina Fenster travels the globe capturing unique and intimate photography during the world's most prestigious fashion moments. From New York to Los Angeles, Paris to London and celebrity runways, Sabrina is most inspired by everyday street style. 
All prints are signed by the Photographer and available framed or without a framed.
"Reunited" follows two friends in New York City during a post-pandemic city re-opening. This moment signifies the emotion of a nation coming together for an intimate embrace and celebrates the reunion of loved ones everywhere.
"Curiosity" captures a group of onlookers in New York City during a post-pandemic city re-opening. While whizzing by in a cab to the first Fashion Week the city has experienced in nearly two years, a group of friends caught Sabrina's attention. Her curiosity pulled her to capture a standstill moment. Sabrina encourages the viewer to shed their curiosity and create a conversation around what caught the attention of the onlookers. 
"Capture" uncovers a unique moment into the personal life of Missoni clad models. Prior to the spring / summer '23 fashion show in Milan, Sabrina ventured to the back of the venue to discover a group of models sneaking a moment to themselves. The photo suggests a self-referential experience, where even in our down time, we're called to capture. 
"Round Trip" captures the Coach Fall '22 fashion show, nestled along one of New York City's state of the art experiences, Basketball City, and Pier 36. Marking one of Coach's most iconic stages, the classic yellow bus stationed as a gathering marker for off-duty models and some of the most fashionable personalities from around the globe. 
"Synergy" captures Joyce Cisse, better known as Flowerovlove in Milan. One of London's brightest musicians, emerging into Gen Z's next superstar. If it wasn't for the iconic Missoni pattern in a vibrant pink that caught Sabrina's eye, it was the effervescence of the crowd taken to this star's energy.
"Echo" captures a moment of time. London's evolving social scene gathered for the city's most anticipated shows. A muted leather trench and bold Prada bag echoed through the street, leading Sabrina to capture the dichotomy between texture, color and personal style. 
You can explore the photography collection or email hello@shopcollectivewill.com for custom sizing and images.